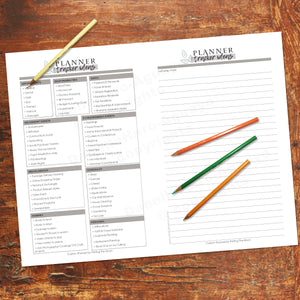 Planner Tracking Ideas - Digital download
Printing The Moon
FREE Planner Tracking Ideas - Digital download
I know! You want to start the good habit of keeping a Planner, but you think that there is not much to keep track on it. This guide will give lots of ideas and help you put all the things you have on your brain into your planner. You will learn to feel lighter and less stressed than ever!
You are going to love it!
Download your FREE Planner Tracking Ideas
Download it for FREE.
One PDF file - 8.5 x 11 inches (regular letter size) - to be printed in your home computer.
**This is a digital item ready to be Downloaded as soon as you finish the FREE transaction**  
CLICK HERE TO DOWNLOAD YOUR PDF
Or, you can follow all steps as any regular purchase (You won't be charged):
ADD to CART
Fill out your personal/customer info.
You won't have to enter any payment info, and nothing will be charged since this is a FREE digital item.
Once you finish the purchase, a couple seconds later, you will be able to download your FREE

Planner Tracking Ideas

in your own computer.
Print your

Planner Tracking Ideas

 

on a regular paper. 
If you would like to print it double sided, but your printer prints on side only, then the print of the first page, place the printed page back inside the paper tray, upside down -test it before, some printers are the opposite-. and print the second page in the back.
Enjoy! 
***************************************************************************

★★COPYRIGHT NOTICE★★


The products you purchase from PRINTING THE MOON are for PERSONAL use ONLY, and cannot be resold or used for monetary gain. Any commercial use is strictly prohibited.

All copyright and reproduction rights are reserved and retained to the artist 
©Danella Haro-Aguayo
www.danellaharo.com
Your purchase licenses you to print the copyrighted illustration for your personal use only. Any commercial use is strictly prohibited.