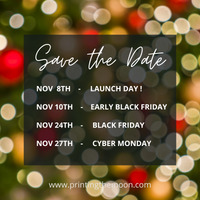 HERE COME THE HOLIDAYS!
THE BIGGEST SALE: NOV 10th - NOV 27th
CHOOSE YOUR CODE:
15% OFF ENTIRE CART: CODE: PTM-BLACKFRIDAY
(*) Buy One, Get One 35% OFF: CODE: BOGO35OFF
 (*) BUY 5+ Planners* 25% OFF: CODE: GIFT25OFF

(*) Only applicable for all PAPER MOON Planners & Journals Collection

***Code activates on November 10th at 6 AM EST!
PERSONALIZED GIFT BOX SET
Extra luxurious gift box set, custom made and personalized, to celebrate someone special. Made to Order.
Custom design and personalization for your box, journal and stickers. Choose your colors, motives and let me turn it into the perfect gift.
This box gift set includes:
Journal - Hardcover, customized/personalized
2 Sticker Sheets - Within designed theme
Design Service - for personalization/customization is Included.  
Deluxe personalized box - to store your Designed journal.
EXPLORE THEM HERE!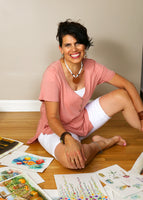 GET TO KNOW ME...
Hi! My name is Danella, I'm an artist and I love all kind of stationery!
I love to intertwined my art with stationery products: notepads, notebooks, bookmarks, planners, postcards, greeting cards, stickers, and many many printables for you!
The written and drawn mediums were always my voice to the world and the best way to express myself.
I started my stationery brand "Printing The Moon" because I know that printing possibilities are limitless. What I love the most is sharing it with you so, it can take you to unimaginable places even up to the moon, giving your voice a real presence, a personality and a place to be.
Wondering my full name? Danella Haro-Aguayo :D